What is rakija? Well, we might try to define it and say it's a general name for a variety of distilled herbal or fruit spirits traditionally drunk in Croatia. However, that wouldn't do it justice because it's so much more. Namely, first and most of all rakija is an important part of Croatian culture. It's the crucial social companion of every gathering. No matter whether you're just going out for a drink, celebrating your birthday or getting married – you sure want to have this liquid friend around to smooth the occasion and cheer everyone up. In its essence, to raise a glass of rakija is to give a toast to life itself.
This Croatian firewater (depending on the variety, amount of alcohol in rakija goes from 30% – 60%) has a long history of both production and consumption. Even today, a homemade rakija is still a common thing in most families. So when you come to Croatia don't be surprised if your hosts greet you with their own rakija variety – after all, as we said, nothing seals friendships like a shot of good rakija 🙂 Keep in mind this might happen at any time of the day, even in the morning – there's no such thing as a "bad moment" for rakija, it's both a perfect appetite opener and a digestif.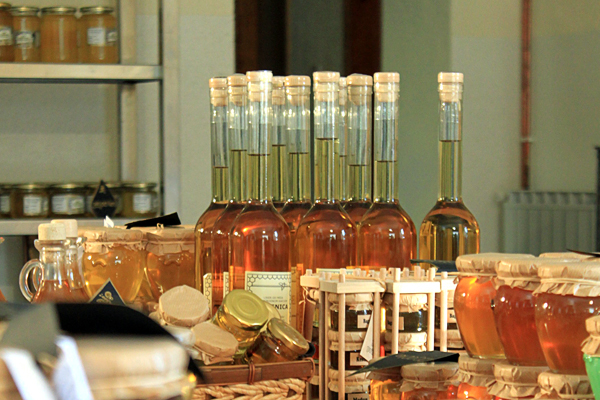 As far as rakija varieties are concerned, Croatians tend to make this fiery beverage out of absolutely everything. Families and local taverns (konoba) expand their offer daily with unusual types such as: Truffle rakija, Olive rakija, Carob rakija, Pine rakija, Rose rakija… you  name it. All Mediterranean herbs and fruits are a potential candidate for a rakija variety. However, there are a few traditional types you should try not to miss and while doing it just remember: if rakija burns in your throat while it goes down it's a bad one, if it burns in your chest it's good.
Travarica – the name for this variety derives from Croatian word trava (grass), implying there's a whole bunch of different Mediterranean herbs and plants used in its production. Usually it's based on rosemary, lavender and sage but actually everyone boasts his own secret combination of herbs. In most cases it's served as aperitif with dried figs and nuts. You'll find a lot of its sub-varieties along the Adriatic Coast. For example Dubrovnik is famous for its travarica with anise and Hvar Island for travarica with myrrh.
Šljivovica – this rakija is named after the fruit it's made of – šljiva meaning plum. It's a colorless spirit popular throughout the country, but most of the production happens in the north of Croatia.
Biska – is a type of rakija specific to Istria peninsula but popular in the rest of Croatia as well. The secret ingredient of this yellowish liquid is mistletoe.
Medica – due to its sweet taste this is one of the most popular rakija varieties. Namely it's made of honey and propolis. Most of its production originates in Istria.
Orahovica – is a dark-brown liquid made of orah which is Croatian word for walnut. Experts would say it's not a real rakija but liqueur, however that doesn't stop people in Dalmatia to get into the process of making orahovica at their homes and fill their balconies with huge glass jars of this sweet liquid.
Višnjevac – just like orahovica, višnjevac is also a beverage that could be categorized somewhere between rakija and liqueur. This dark red liquid is made of sour cherries (višnje) and its taste varies from strong and fiery to fairly sweet. If you're a rakija beginner keep in mind višnjevac is definitely a perfect introduction to the world rakija.
Tips & Guidelines when drinking rakija
And last, but not the least. As with all social events – and rakija drinking is fundamentally one of them – there are certain unwritten rules on how and when to do it. So here are some tips and guidelines to follow when drinking rakija:
Rakija is a welcome friend at any time of the day
Rakija is not a solitary drink, therefore never drink it when alone (it's considered to be the lowest point one can get to)
Always drink rakija in company of other people (obviously, closely related to the previous rule), especially if you want to make friends with them.
Before shooting rakija, raise the glass and click it with all the others present, all the while looking them in the eye
Say živjeli! (cheers) and shoot rakija down your throat with one big gulp (only beginners are allowed to take sips)
🙂 feel the warmth in your chest and smile (believe us, you don' have to follow this tip, it will come naturally)