The Dominican Republic is not just about merengue music and package holidays. It's a big island (more than twice the size of Wales, and second only to Cuba in the Caribbean) so there's plenty of room for variety and genuine Dominican life, unlike on smaller islands that are monopolised by tourism. With the all-inclusive resorts concentrated around Punta Cana in the south-east corner and Puerto Plata on the north coast, it's easy to escape to its dozens of stunning, unspoilt beaches, mountainous interior and chilled resorts such as Las Terrenas in the lush Samaná peninsula.
Surfers have always headed to hip Cabarete, but are now discovering the remote south-west, a big favourite for eco-tourism. (All the places listed here are owned by foreigners, but that's because most Dominicans who have the money to invest in a hotel generally open expensive, high-end places.)
Todo Blanco, Las Galeras, Samaná
On a quintessential palm-fringed beach, this Italian-owned hotel of only eight rooms maintains an exclusive air and is all white: walls, furnishings, louvred shutters and paintwork. Its identical rooms have two queen-size beds and generous balconies facing the beach, and the elevated position gives the two-storey plantation-style building fabulous views of the gardens and blissful bay beyond, with a small restaurant open to the breeze in front. Maurizio, the owner, often seconded by his dog, runs the oldest dive centre in Las Galeras, with whale-watching (January to March) and snorkelling also available.
• +1 809 538 0201, hoteltodoblanco.com, room-only from $90, or "make an offer" online
Hotel Plaza Lusitania, Las Galeras, Samaná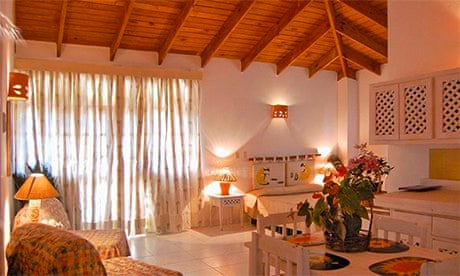 This guesthouse sits above a small shopping complex only minutes from the main beach of this laid-back town. This world of Italian chic was designed by its owner, Manuela, whose interior decoration shop is downstairs beside a pizzeria, a handicrafts gallery (strong on Haitian metal sculptures) and a plant-filled patio. Three spacious, well-equipped rooms with high ceilings and balconies sleep between two and six, so are ideal for families, particularly as there are cooking facilities too. Local shops, diving schools and restaurants are on the doorstep.
• +1 809 538 0093, plazalusitania.com, doubles from $45, large room from $85, both including breakfast
Hôtel Atlantis, Las Terrenas, Samaná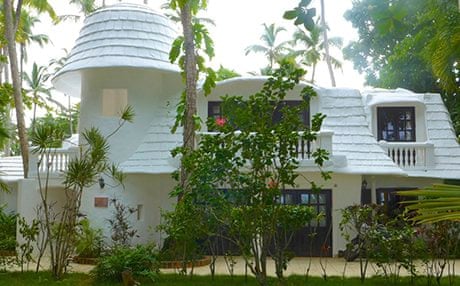 This French hotel was the first on blissful Playa Bonita. As it's a mile or so west of the main action, the setting is tranquil, yet not isolated, and there are gorgeous sea views and a bird-filled tropical garden. The 18 rooms, all different in style and size, some with terraces, accommodate up to five, while a quirky architectural style of curves and snaking outdoor corridors, brings a hippyish whimsy. Dining here is an absolute must: the chef used to cook for French president François Mitterrand and ingredients could not be fresher.
• +1 809 240 6111, atlantis-hotel.com.do, doubles from $85 including breakfast.
Hotel La Tortuga, Las Terrenas, Samaná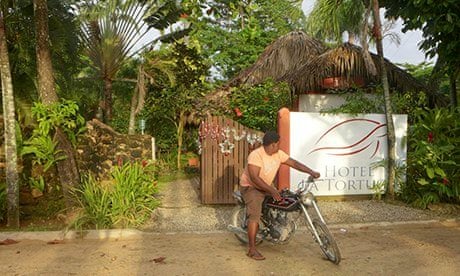 Hidden down a side street, La Tortuga is something of an oasis in a part of Las Terrenas that is seeing rampant condo development. Inside the lush, walled garden with pool and open-air restaurant are 10 charming, well maintained two-storey casitas, each with two small bedrooms, a porch, essential insect screens and Wi-Fi. Maurizio, the affable Italian manager, has lived here for 25 years, so can fill you in on the peninsula's secrets. At the end of the road, the rebuilt Pueblo de los Pescadores has a lively concentration of food outlets and bars, with the beach just behind.
• +1 809 240 6566, hotel-la-tortuga.com, doubles from $89, four-person bungalows from $136, including breakfast
Los Gringos, Playa Magante, near Rio San Juan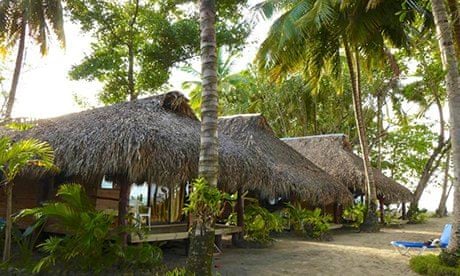 This place is way off the radar on the island's north coast, yet only 35km east of the surfing mecca of Cabarete. Options here are lotus-eating on the wild beach, ambling to the bar for a Presidente beer, a snorkel, sunbathe, then a plate of succulent langostinos (spiny lobsters) in the thatched, open-sided restaurant overseen by Belgian chef-owner Patrick Verleije. There's satellite TV, Wi-Fi and hammocks in the rustic, thatched cabins; with only three of them, it is not exactly heaving but at weekends the restaurant attracts savvy locals.
• +1 809 841 5606, losgringosdr.com, doubles from $80 a night or $420 for a week, including breakfast
Bahia Blanca, Rio San Juan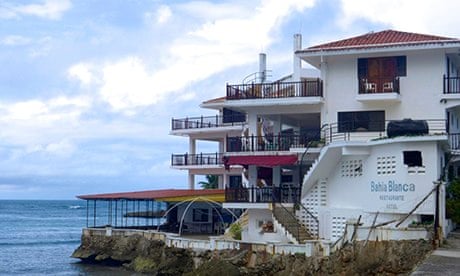 There is a dreamy quality about this extraordinary hotel which, like the prow of a ship, juts out over the sea in splendid isolation. As it's flanked by secluded sandy beaches, you are only seconds from a swim, and the wraparound terraces are perfect for contemplating sizzling sunsets. Don't expect designer comfort – rooms are dated, though this is easily compensated for by the warm, energetic Quebecoise owner, Lise Pineau, who built the hotel with her husband in 1988. Aim for a top-floor room to really benefit from the sea breezes. Just behind is a bird reserve, the Laguna Gri-Gri, where boatmen await, and the attractive town itself.
• hotel-dominican-republic.net/hotel-376-bahia-blanca-rio-san-juan, doubles from $35
Extreme Hotel, Cabarete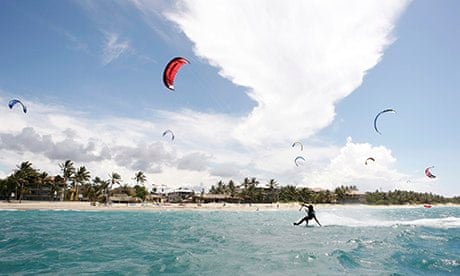 This funky Canadian-operated sports hotel has a strong green ethos, kite-surfing on the doorstep, a circus school, a huge thatched gym, a permaculture farm in the hills and an organic beachside restaurant. And the sociable, chilled atmosphere is as ideal for singles as for young, active families. There is no great design aesthetic but fresh, white, cross-ventilated rooms are conceived to conserve energy, in fact 90% is solar-powered. Young enthusiastic staff are all actively involved in the wide range of activities – from yoga to kick-boxing – and rates are unbeatable.
• extremehotels.com Doubles from $50 a night (two-night minimum) $300 a week or $800 a month
Cabarete Beach Houses, Cabarete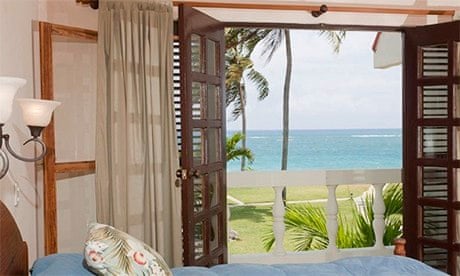 This well-managed complex of 20 terraced units is perfect for families in search of a safe, comfortable holiday house on the beach. The spacious houses have two double bedrooms, open-plan kitchen-living-room, roof terraces front and back, and a porch opening onto shared gardens with tennis courts and a small pool. As each house has a different owner, interior style varies, but cable TV, Wi-Fi and air-conditioned bedrooms are the bottom line. Best of all, you are steps from the windsurfers' beach and a 20-minute walk to Cabarete's epicentre.
• +1 809 571 0744, cabaretebeachhouses.com, house with two doubles from $725 per week plus tax
Hotel Casablanca, near Barahona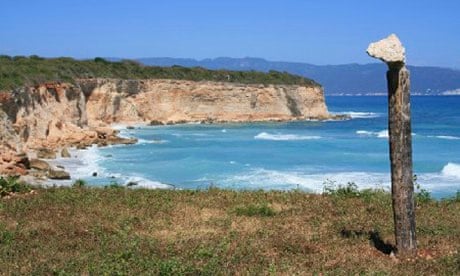 Perched on a clifftop down in the wild south-west of the island – where the surf can be rough – is this pioneering guesthouse. The six guest rooms are simple, and showers are lukewarm at best, but there's a rambling garden and it's within an easy walk of beaches – and this is not the place to stay closeted. The gregarious Swiss owner and highly praised cook Susanna Knapp revels in her evening table d'hôte, when guests gather at a gourmet table, so book a place. You'll need a car to get around this beautiful, unspoilt region and for the main town, Barahona, about 10km north. • hotelcasablanca.com.do, doubles from $60 including breakfast
Piratas del Caribe, Barahona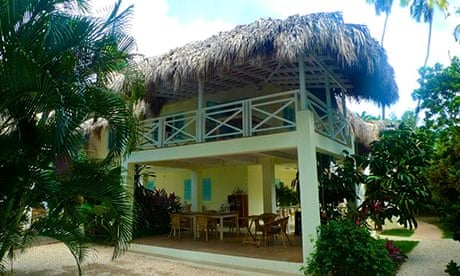 It's tough to find a greater contrast between hotel and setting, as this unexpectedly chic five-room guesthouse sits on the fishing beach of Paraiso, a ramshackle town in the spectacular, unspoilt southwest. You won't be able to swim here, but the crashing surf gives a great soundtrack to the night as you settle into your lofty room with four-poster and huge terrace. The Creole-style hotel is run by an enthusiastic Franco-German couple, and the walled garden is a delight, full of tropical lushness and birds, as well as a decent pool and restaurant.
• +1 809 243 1140, hotelpiratasdelcaribe.com, doubles from $139 including tax and breakfast