Hotel Casamar, Llafranc
The hugely friendly, family-run Casamar does simple extremely well, and does sophisticated right where it counts – in the Michelin-starred kitchen. The lobby, sitting area and dining room are nattily designed, but the modest bedrooms are all about the view. Painted white and free of adornment, they are bright and peaceful, with balconies overlooking, for the most part, Llafranc's pretty bay. When the weather allows – which is most of the time – breakfast is served on the restaurant's terrace, a place that can be hard to leave.
• Carrer del Nero 3, +34 972 30 01 04, hotelcasamar.net, doubles from £63
Hostal Satuna, Begur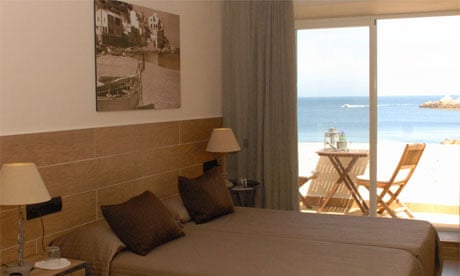 The long and winding road down to the cove of Sa Tuna makes this a relaxing place, even in high season. You'll find just a couple of restaurants and a handful of houses. The Hostal Sa Tuna taps into this simplicity with its Balearic chill-out vibe, which is a little more glam and a little more youth-oriented than most hotels on the Costa Brava. The five rooms and their adjoining balconies, all facing the sea, are decked out to look like something from a French home decor mag, but are within the reach of most budgets.
• Platja Sa Tuna, +34 972 62 21 98, hostalsatuna.com, doubles from £100, including breakfast
Sa Rascassa, Begur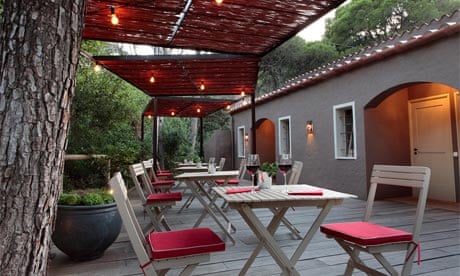 Book early for one of the coveted five rooms at the century-old Sa Rascassa, which sits in splendid isolation at the end of another winding road. The rooms are on the pretty side of plain, but the real attraction is the seafront terrace, where – particularly at night – you'll hear nothing but the waves breaking on the sand. The beach is a little gritty and there are few attractions, except for the location itself – a small cove flanked with pine-covered headlands. This really is a place for those looking for utter relaxation.
• Cala d'Aiguafreda 3, +34 972 62 28 45, hostalsarascassa.com, doubles from £82
Hotel Tamariu, Tamariu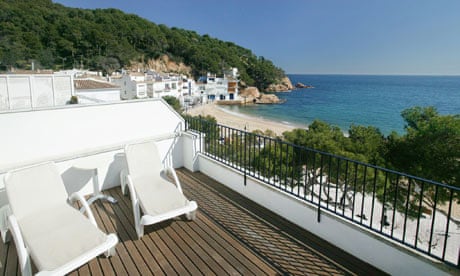 Four generations of the same family have made this no-nonsense seaside hotel the kind of place to which visitors return. In keeping with most Costa Brava hotels, its decor is simple – the focus is on the view, which in this case is the captivating beach at Tamariu, an unspoilt fishing village an hour's stroll up the coast from Llafranc. Plainish rooms, with a splash of colour in the striped bedspreads, look straight out to sea, or there are quieter, slightly cheaper rooms to the side. There's a sitting room piled with books, live jazz to keep things buzzing, and a child-friendly restaurant.
• Passeig del Mar 2, +34 972 62 00 31, tamariu.com, doubles from £75
Casa Dos Torres, Calella de Palafrugell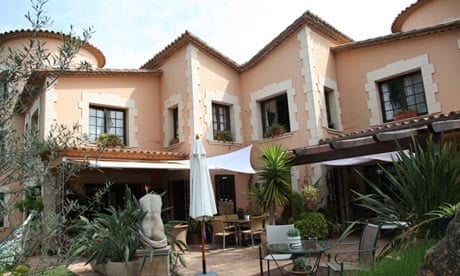 Calella de Palafrugell (not to be confused with the insalubrious Calella 'de la Costa' an hour or so south) is the most seductive of the decent-sized towns along the Costa Brava, but its beach and waterside promenade can get very crowded in summer. Slightly away from the action is the hugely welcoming Casa Dos Torres, run by a helpful Scottish couple. Sitting in a leafy garden with a pool and barbecue area, the villa is unusually cosy for a beachside hotel, and its library and log fire make it an appealing out-of-season option.
• Carrer Chopitea 59, +34 972 61 70 19, casadostorres.com, doubles from £85 including breakfast
Hotel Mitus, Canet de Mar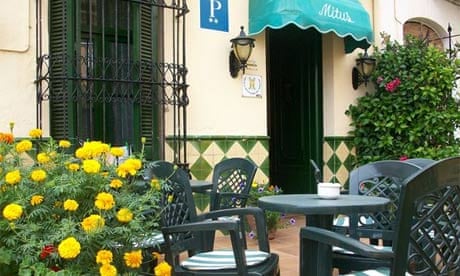 A modest little pensión, much loved by Catalans, who use it for a weekend out of Barcelona in this sleepy town. The rooms are small but comfortable, with few mod cons, but friendly owner Jaume can supply hairdryers, irons and so on. Each room has a balcony looking out either over Canet's ample beach or the little courtyard garden. Ablaze with flowers, the garden is where breakfast is served, and it's a pleasant place to nurse a late-afternoon drink.
• Carrer Riera de la Torre 20, +34 93 794 29 03, hotelmitus.com, doubles from £40
Utopia Beach House, Sitges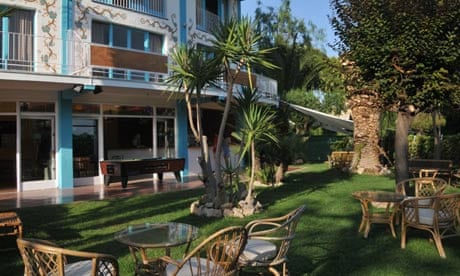 Youth hostels are not what they were, and the Utopia is a fine model of the move from institutionalism to hedonism. Gardens front and back are dotted with bamboo chairs and tables, there's a barbecue area for guests' use, a "music corner" with a 200-year-old piano, a sitting room with sofas, books and a TV, and a terrace with a pool table. Painted in rich colours, the rooms range from en suite singles with private balconies to dorms for six. Be warned that although it's a relaxed place, it can get kind of noisy – youth hostels have moved on, but youth itself is resistant to change.
• Carrer Socias 22, +34 938 11 11 36, utopiasitges.com, doubles £60
Hotel César, Vilanova i la Geltrú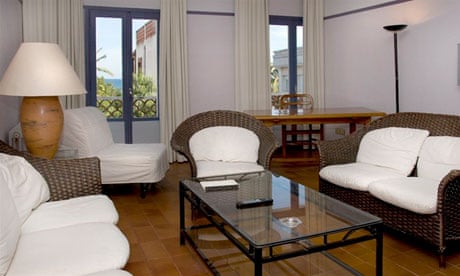 Bigger and brassier sister to nearby Sitges, Vilanova is not quite as pretty, but has a certain unpretentious charm, as well as some great hotels and restaurants. The César is a sprawling and jolly affair, where you'll find Philippe Starck's Louis Ghost chairs next to an ornate Modernista doorway. There's also a rooftop terrace with a splendid view out over the Med. The small plunge pool is a godsend in summer, and in winter you might want to book to use the sauna (free to guests, but needs reserving) or simply curl up in the book-lined snug, next to a roaring fire.
• Carrer Isaac Peral 4, +34 93 815 11 25, hotelcesar.net, doubles from £65
Llansola, Sant Carles de la Rapita
The Ebro delta teems with birdlife (including flamingos) not seen elsewhere in Spain. It's best seen on a tour or by bicycle, and this town makes a good base. The Llansola is the cheeriest of its hotel options, and most of its rooms have been refurbished with bold colours and discreet murals. The affable members of the family that have run the hotel for four generations can provide information on the region, and rustle up some fine dishes using rice grown in the delta.
• Carrer Sant Isidre 98, , +34 977 74 04 03, llansola1921.com, doubles from £46
Camping Trillas, Tamarit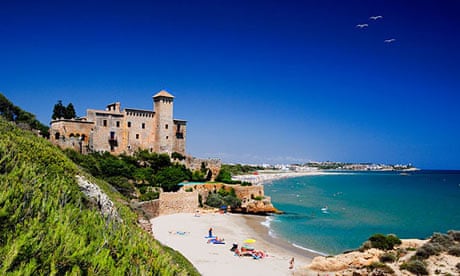 One of the charms of unsung Altafulla, on the way to Tarragona, is its preserved 18th-century fishing quarter, spread out along the seafront, but this means there are few restaurants and no hotels overlooking the sea. However, a short walk down towards the castle and hidden cove of Tamarit lies this lively campsite, just behind its brasher, more resort-like neighbour, the Tamarit Park. It's no secret, with space for more than 400 guests in its plots, wooden cabins and static caravans, but it's perfect for families and anyone who values creature comforts – including Wi-Fi, a pool, restaurant, shop and playground.
• Ctra N-340, km 1.172, Tamarit, +34 977 65 02 49, campingtrillas.com, pitches from £8.60 per plot, plus from £3.60 a day for adults