Although destinations such as Capri and the Amalfi coast have long been on the tourist map, other stretches of southern Italian coastline still have an insider's cachet. Even Puglia, which has become a popular low-cost flight destination for off-season sun-seekers, has its secret bays and deserted strands. The challenge, in a country which despite the economic downturn still has some of Europe's highest accommodation prices, is balancing value for money with beach proximity. Here are 10 places that get the formula right. This selection takes in the regions of Campania, Basilicata, Calabria and Puglia; for Sicily, see this previous feature.
---
CAMPANIA
Hotel Maronti, Barano, Ischia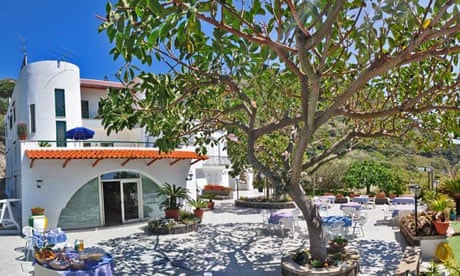 If Capri is Italy's archetypal dolce vita posing island, its near neighbour Ischia, a volcanic raft all abubble with thermal springs, is associated more with healthy spa tourism. But there's no need to embark on a regime of steam baths and mudpacks, as Ischia has a laid-back beach scene too – which is at its most relaxed and family-oriented at Maronti, the island's longest sandy strand. Set just back from the beach, the family-run, seaside-modernist Hotel Maronti has 25 neat, clean bedrooms and a large outside patio where breakfast (with delicious homemade jams and marmalades) is served in the shade of a handsome magnolia tree. It's great value for money, especially if you opt for half-board.
• +39 081 990 162, hotelmaronti.it, doubles from €90
Hotel Solcalante, Procida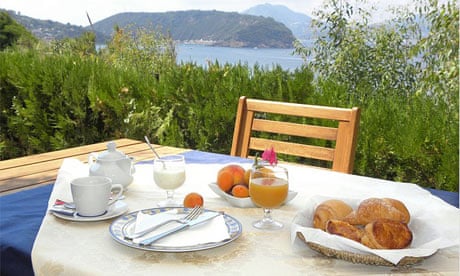 Never heard of Procida? Good: its under-the-radar status is one of the things that makes the smallest of the three inhabited Bay of Naples islands worth visiting. Many procidani commute by boat to Naples to work, and tourism here is refreshingly low-key. The Solcalante, meaning Setting Sun, is utterly in tune with the island's rustic soul, with just 12 light and bright rooms arranged around the hotel's trump card: a verdant garden perched (literally) above Pozzo Vecchio beach (as featured in the film Il Postino), with an open-air hot tub ideal for sunset cocktails. Two generations of the Cerase family look after guests, man the bar, cook meals and run the small spa, which offers massages and other treatments at a fraction of what you'd pay in a Capri five-star.
• +39 081 810 1856, solcalante.it, doubles from €70
Eva Rooms, Atrani, Amalfi coast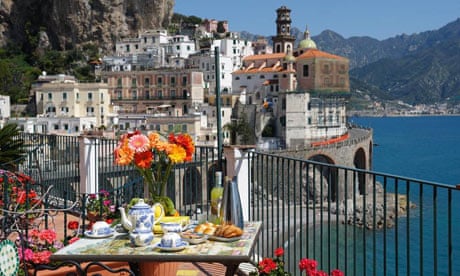 Sometimes life is Matrix-simple. The blue room, or the yellow room? Once that hurdle's over you can relax and enjoy the charms of this compact two-room Amalfi coast B&B, which overlooks the sandy beach and maiolica-domed historic centre of Atrani, the saltier and less touristy next-door neighbour of Amalfi. I use the word "overlooks" advisedly: from the flower-decked terrace shared by both rooms, you could paraglide to the beach in a few seconds; if you prefer to use the stairs, it takes around a minute. Breakfast (fresh orange juice, just-baked pastries) is brought to your room so you can enjoy it on the terrace; and Pio, the host, is friendly, helpful, and knows everyone in Atrani and Amalfi – useful, for example, if you've made the mistake of coming by car and are looking for somewhere to park it.
• +39 089 872 875, evarooms.it, doubles from €70
La Locanda del Mare, Paestum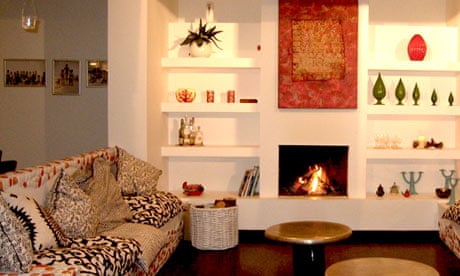 Accommodation around the archeological areas of Pompeii, Herculaneum and Paestum, south of Naples, is generally dingy. La Locanda del Mare is a magnificent exception: bright, boxy and very stylish, this collection of white-washed bungalows in a pine forest is sandwiched between Paestum's magnificent ancient Greek temples and a long stretch of gloriously sandy beach. Nineteen simple white rooms have wild splashes of colour; multi-hued cushions beckon in its homely living room and pretty garden; an excellent restaurant sources its ingredients locally; and the Med lies at the end of a short path that winds from the garden. With all this on tap, you have to wonder whether any guests manage to tear themselves away to explore the exquisite coastal villages and the wild Cilento national park nearby.
• +39 0828 811162, lalocandadelmare.net, doubles from €60
Residenza d'Epoca 1861, Santa Maria di Castellabate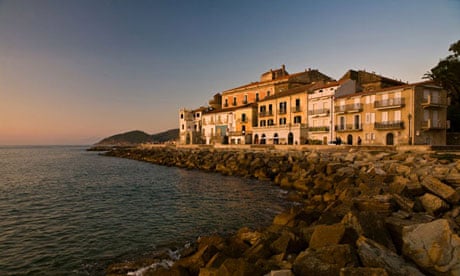 Looking north towards across the bay of Salerno towards the Amalfi coast, the delightfully old-fashioned seaside resort of Santa Maria di Castellabate has none of the monied pretensions of its more famous counterpart. The Residenza d'Epoca 1861 forms part of this relaxed and amiable town's elegant waterside strip. The hotel's six pretty, airy rooms look out over the water, rolling up the beach just metres away. Each bedroom has its own little balcony from which to admire the view and adjust to the languorous rhythm of the place. When you've done with the sound of lapping waves, delightful owner Carlo is happy to arrange treks through the surrounding Cilento national park.
• +39 0974 961454, residenzadepoca1861.it, doubles from €100
---
BASILICATA
Tenuta Palmieri, Maratea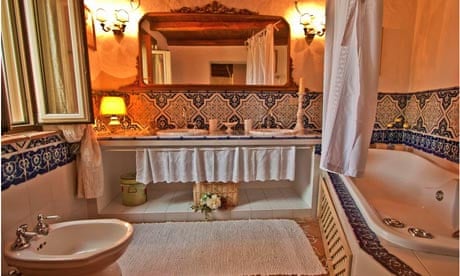 Does it get any better than this? Home-made breakfast is served in an airy loggia overlooking a garden bright with bougainvillea and hibiscus. A short walk through cool ilex woods and fragrant Mediterranean macchia brings you to Capo La Nave, a rocky cove lapped by crystalline water. Run by Signora Mariangela and her mother Piera, whose grandfather bought this rural refuge near Maratea in the 1920s, Tenuta Palmieri is the kind of secluded sea-girt paradise that is increasingly difficult to find on the Italian mainland. Rooms have pastel-sponged walls, local ceramic tiles and homely antiques; there are also a few independent self-catering apartments. The owners organise cooking lessons and half-day excursions down the coast on their vintage caicco sailing boat, and the Tenuta keeps a few bikes for guests' use, free of charge.
• +39 0973 878 008, tenutapalmieri.com, doubles from €70
---
CALABRIA
Villino Erminia, Pizzo Calabro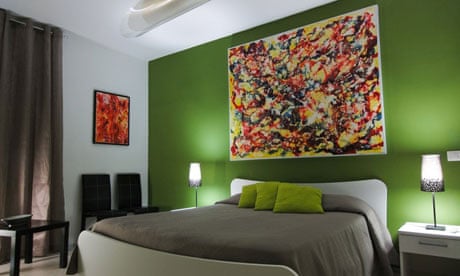 This quaint 17th-century villetta on the Pizzo Calabro seafront gives no indication of what lies inside: the three self-catering apartments are sleek, contemporary and stylish, with striking lighting and an unexpectedly jazzy colour palette. Step outside, and you shift back several gears: the historic tuna fishing town of Pizzo straggles picturesquely along an azure shore with three long stretches of sandy beach. Even the busiest weeks seem sleepy here by comparison with many other Calabrian resorts. With on-site parking, this makes an ideal base for exploring the region's chicest seaside resort, Tropea, or motoring up to the Carthusian monastery of San Bruno, where the surrounding forest of silver firs was immortalised by Norman Douglas in his 1915 book Old Calabria. Owner Pasquale is a passionate font of local knowledge.
• +30 0963 531422, villinoerminia.it, doubles from €75
---
PUGLIA
Il Giglio nelle Dune, Torre San Giovanni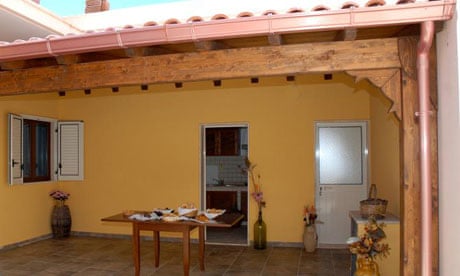 The Ionian (western) coast of the Salento peninsula – the heel of the Italian boot – is where locals come for the softest sand, the cleanest sea and the gentlest breezes. This utterly simple B&B is so close to the dunes that give it its name that many guests never change out of their swimming costumes. Done out in sky, sea and sun pastel hues, the four bedrooms are decidedly no-frills but all are spacious, spotlessly clean and air-conditioned. Breakfast, served on a covered terrace, features delicious homemade cakes made by Signora Maria, who owns and runs the place with her husband Luciano. This has to be one of seaside Puglia's best bargains – especially when you factor in the free bicycle hire and the fact that, outside of the busy months of July and August, the owners are often happy to let you use their kitchen to cook dinner.
• +39 333 258 3715, bebsalento.org, doubles from €50
B&B Santo Stefano, Polignano a Mare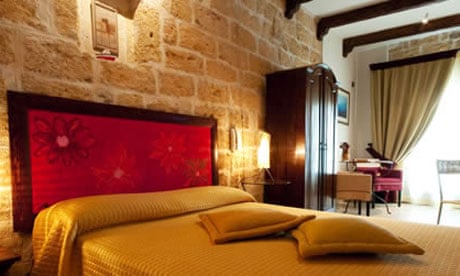 Polignano is a delight: a cluster of white houses atop beetling sandstone sea cliffs, with the wildness of the location set off by the warmth and charm of the neat centro storico. Right above those cliffs, the Santo Stefano is a great-value, nine-bedroom B&B carved out of an ancient tower house. Rooms are unfussily stylish, with bare tufa stone walls and colourful details throughout, from bedspreads to artwork. Domenico, the factotum who looks after guests, is incredibly helpful and a good source of information on this underrated stretch of Puglian coast. But the high point has to be breakfast on the terrace, with its boundless sea views. Looking at all that blu dipinto di blu makes you realise where local boy Domenico Modugno got the inspiration for his song Volare.
• +39 331 678 4312, santostefano.info, doubles from €49
Baia Scirocco B&B, Peschici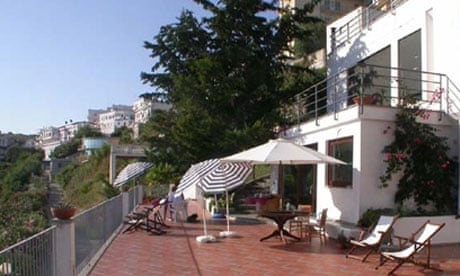 Sun-bleached and sea-sprayed, Peschici on the northern shore of the Gargano peninsula – Italy's "spur" – is a picture-perfect place with splashes of brilliant oleander, and tortuous cobbled streets winding up from the shore against a dramatic rocky backdrop. Baia Scirocco is a short walk from the lively centro storico – a walk so complicated that the B&B's ever-helpful owner Antonella will accompany when you first arrive. With three brightly coloured rooms, each with access to the long terrace from where you feel you can reach down and touch the sea as you tuck into Antonella's magnificent breakfasts, Baia Scirocco is the kind of place you may never want to leave. But fine sand beaches beckon: choose between the deck chair geometry of the main strand or any number of quieter bays that can be reached on foot or by boat.
• +39 0884 962474, baiascirocco.it, doubles from €90.