In case you're coming to Croatia during Easter period you might find it interesting to find something about Easter traditions and food in Croatia, most special being those related to Palm Sunday and Easter Sunday. In general, Easter is perceived in Croatia as time of rebirth and new life. This fact is perfectly reflected in symbols which are most commonly associated with Easter: eggs, spring flowers (especially violets), and food such as spring onions, lamb and young cheese. Croatian word for Easter is Uskrs, so if you want to wish someone happy Easter just say – Sretan Uskrs!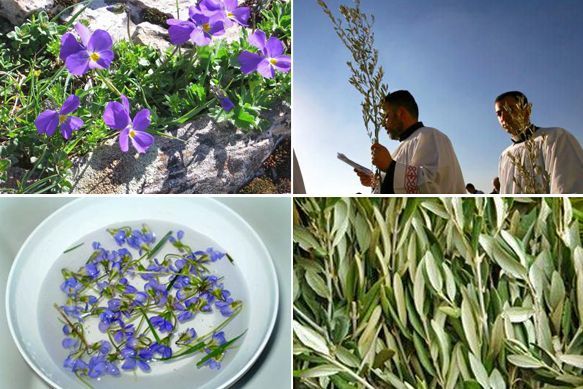 The week preceding Easter Sunday is associated with some really interesting traditions. First of all it should be noted that Palm Sunday is in Croatia actually named Flower Sunday – difference in name vividly describes customs typical for that day in Croatia. Namely, since palms are not very common, people developed tradition of using spring flowers and olive and rosemary branches instead. In this sense, the most interesting is the tradition of "flowering" in which day before Flower Sunday people pick spring flowers – mostly violets – and put them in a bowl of water. On the next morning everyone in the family washes his/her face in this water. It's believed this will help you stay beautiful and energetic all year round, and if you're elderly it might even improve your eyesight. 🙂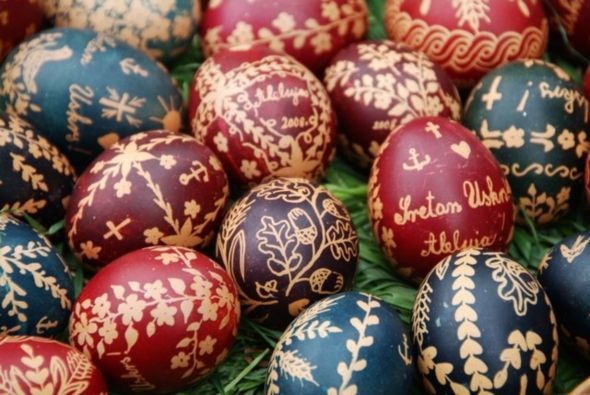 Croatia also nurtures the tradition of coloring eggs for Easter, but here they have a special name – pisanica – the term developed from the verb pisati (to write). Namely, pisanica eggs often have a message inscribed into them. Traditionally, eggs are dyed naturally, using for example onion shells and red beet to achieve red color, and spinach and leek for green. In some places coloring pisanica eggs developed into a form of art – whereas liquid wax is applied to egg shell with a thin instrument and removed after coloring, leaving a beautiful, intricate pattern.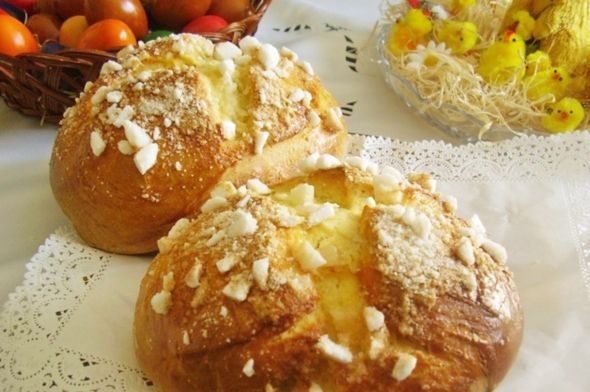 Sirnica or pinca (name varies according to the region) is traditional cake eaten for Easter in Croatia. By its texture and taste it's a sort of cross between cake and bread which usually comes in a form of loaf or braid. Since recipe for sirnica contains many eggs it's considered to symbolize end of Lent and beginning of a richer and better period.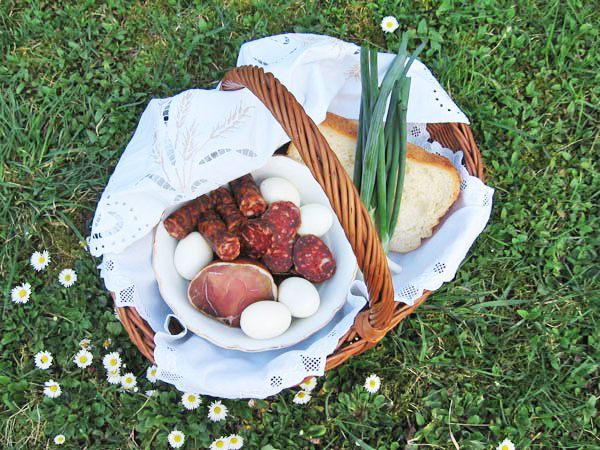 Easter breakfast is a quite important thing in Croatia. Ham, hard-boiled eggs, spring onions, horseradish sauce, a bit of salt and sirnica are a must on every Croatian table on Easter Sunday. Moreover, those of churchgoing persuasion put all this traditional food into a wicker basket, cover it with an embroidered cloth and carry it for a blessing.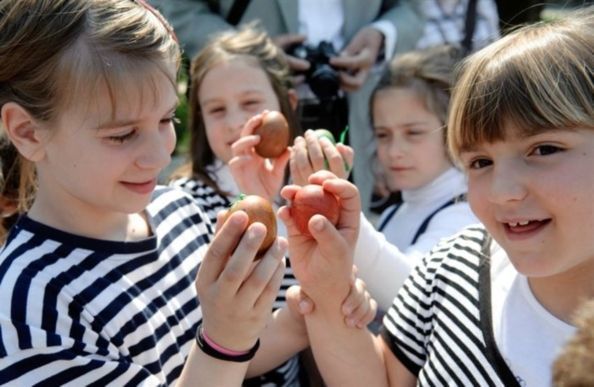 There's also an Easter game – tucanje – and it's specially popular among the kids. Each "player" chooses an egg from the basket with pisanica eggs. Then they gently tap their two decorated eggs against each other and the winner is the person whose egg remains intact 🙂