Coffee drinking is one of Croatia's favorite pastimes. That much favorite it has evolved into an "art" that requires special skills. So all of you out there planning to blend with locals on your vacation and immerse yourself in Croatia's habits and tradition, these are two basic goals you might want to aspire to:
once in a coffee shop, sit back, relax and forget the notion of time ever existed
make a single coffee last for hours (closely related to the first goal)
You might find these goals funny, but believe us locals take them very seriously and live by them day after day, especially during the summer in Croatia. Why summer? Well, because that's the time when all of the Adriatic Coast is dotted with quaint outdoor cafes, locally known as štekat, which spread their terraces with tables, seats and parasols onto every available part of a square or sidewalk. And then everybody crawls out of their winter cocoons to sit back, enjoy the sun, watch the passers-by and most importantly – sip and savor their precious coffee at leisure.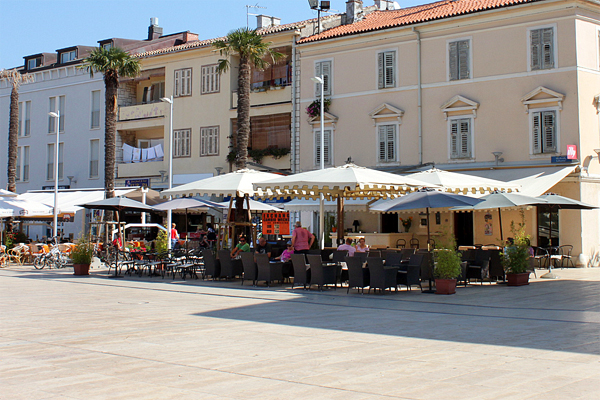 The history of coffee culture in Croatia is quite long, and what's more important, it developed under the influences of two most popular coffee cultures – the Italian and the Turkish one. The legacy of Turkish empire is the so called turska kava (Arabic coffee – still the most popular variety in Croatian homes), and the Italian legacy is of course – espresso coffee. However, it should be noted – although the coffee is the same as in Italy, the process of taking it is completely the opposite. Whereas our neighbors prefer to drink their coffee standing and quickly, we like to sit back and prolong the experience as much as possible.
As far as the offer is concerned the most popular coffee drinks are cappuccino, kava s mlijekom (coffee with some milk), bijela kava (white coffee, bigger than the previous one and with more milk), espresso, Nescafe (instant coffee made from a powder, not strong and fairly sweet).
All in all, Croatian coffee culture is all about the experience. It's the main social activity so it's usually done with friends or family. All the important life conversations are here almost by rule done over a cup of coffee. When someone here says oćemo na kavu (let's go for a cup of coffee) – it might mean basically everything: let's fall in love, let's break up, let's start a business… or just let's have a talk 🙂
So when you come to Croatia first try a few different coffee shops until you find the one that suits you best. Then order the coffee you like the most and you're free to spend the whole day doing nothing else but enjoying your time. Forget about all the plans and agenda and remember just one thing: once in Croatia always take your time to take a coffee! 🙂