Crystal Cove Beach Cottages, Crystal Cove state park
These bohemian, higgledy-piggledy beach cottages sit in the heart of Crystal Cove State Park's 3½ miles of winding white-sand coastline. They were built in the 30s and 40s and have been lovingly restored with vintage seaside furniture and period details. Each cottage is either on the beach or looking down on it from a bluff top, connected by winding wooden pathways and wind beaten painted fences. A cute nearby cafe, The Beachcomber, serves breakfast, lunch and dinner and a takeaway Shake Shack serves burgers, fries and milkshakes (which is useful, because the cottages don't have ovens).
You can take over entire cottages, but 29, 38, and 39 can also be rented by the room. These "Dorm" cottages share kitchens, living areas, decks and bathrooms. Two people can sleep for as little as $56 in Beachcomber's Lodge in a small room with a view of the ocean. In Paradise Lodge four guests can sleep for $111, in a room with ocean views through two five-foot windows and a private entrance from a patio.
• 35 Crystal Cove, Newport Coast, crystalcovebeachcottages.com. Book through reserveamerica.com. At 8am PST sharp on the first of each month, the entire next seven months are opened for reservation and book up fast. Double rooms from $59
Water Canyon Campsite, Santa Rosa, Channel Islands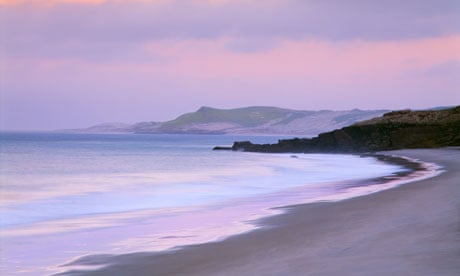 Beaches in southern California might be famous for their preening bikini babes and body-builders, but if you stray from the tourist hotspots you'll find unexpected fragments of stunning white sand and solitude. The Channel Islands, a few hours off the coast of Santa Barbara by boat, are often called "California's Galapagos" for their isolated, undeveloped coastline and unique wildlife. The island of Santa Rosa alone, with its 55 miles of coastline encircling thousand-foot mountainous peaks, hosts 16 species of plants found nowhere else in the world.
The primitive but stunningly situated Water Canyon Campsite sits above the rolling dunes of Water Canyon beach at the eastern coast of Santa Rosa. Picnic tables, pit toilets, wind breaks and drinking water are provided but you must bring everything else and leave nothing behind. It's worth the effort. As you walk for miles over from the beach you're likely to see dolphins in the surf and run into wild foxes scampering from your footsteps. For the more adventurous (and experienced!) beach lover, wild beach camping is also available between 15 August and 31 December. Come prepared for extreme winds and no signposts.
• Camping reservations are needed for the campground at Water Canyon. Book in advance on +1 877 444 6777, or book through recreation.gov. Camping costs $15 a night, including the National Park Service fee and reservation fee
La Jolla Inn, La Jolla, near San Diego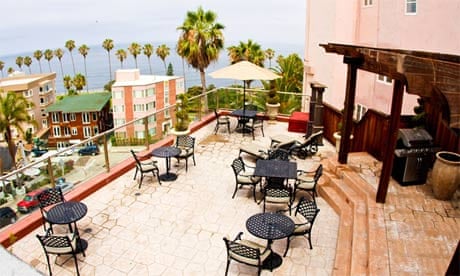 If you want to eat freshly baked cookies and drink lemonade on an ocean-view terrace after an exhausting morning of snorkelling from the arc-shaped sands of a tiny nearby cove, the La Jolla Inn is your place. Each room is small and clean, most with quilted bedspreads and little balconies looking out on the ocean.
There are beaches aplenty in La Jolla. The nearest is pretty La Jolla Cove where surfing is prohibited but the clear water make it perfect for snorkelling. A little further off, hang out with the surfers on Windansea Beach under a Polysian-style hut nicknamed the "sugar shack", thanks to all the romantic rendezvous it's seen. Kick back on the sands with a copy of Tom Wolfe's The Pumphouse Gang, where the title essay is all about 1960s surfer culture on Windansea Beach.
•1110 Prospect Street, +1 858 454 0133 (toll free 888 855 7829), lajollainn.com. Double rooms from $119
Julia Pfeiffer Burns state park campground, Big Sur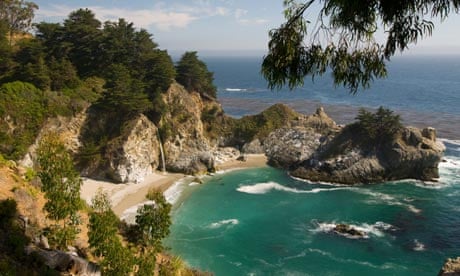 The two hike-in environmental campsites at this state park, 12 miles south of the village of Big Sur, sit on a ridge just above an eight-foot waterfall that drops from the cliffs to the cove of a beautiful little beach. Tourists often overlook it because of its proximity to Big Sur's bigger and more famous park, Pfeiffer Big Sur, but the shoreline views from this campsite are unbeatable. You'll wake up to the smell of redwoods and sea spray, hummingbirds buzzing around you and sea lions barking from the cove. Curl up under a tree with Jack Kerouac's novel Big Sur and greet the occasional jealous hiker who didn't have the foresight to book a camping spot.
Tantalisingly – or frustratingly – there's no direct beach access from the campsite so while you are above the beach with truly staggering views of white sand and ocean, you won't be doing any paddling.
• 47555 Highway 1, parks.ca.gov. Book through reserveamerica.com. $30 per night
Pigeon Point Lighthouse Hostel, Pescadero, south of San Francisco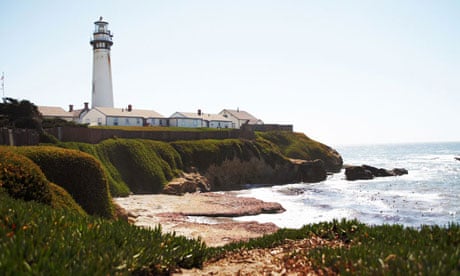 The 115-foot lighthouse at Pigeon Point has been protecting ships since 1872. Originally the dwelling of the lighthouse keeper, Pigeon Point Hostel is perched on a cliff 50 miles south of San Francisco, surrounded by ocean and scrambling distance from a beach called Whalers Cove. The sheltered and south facing Whalers Cove is perfect for – ahem – whale watching, but also attracts a sky of birds. A cliff-edge hot tub can be rented by the hour so you can soak yourself at sunset while staring out at harbour seals on the rocks.
The hostel is split into four different houses, each with a living room and kitchen. The houses sleep 15 people and there are only two private rooms available, the rest sleeping up to six people. There are picnic tables, a barbecue, and plenty of board games for the evenings.
• 210 Pigeon Point Road, +1 650 879 0633, norcalhostels.org/pigeon. Shared dorm rooms starting at $25-$26.50pp per night, private single/double room $73. There is a daily membership fee of $3 per adult for non-HI members.
Point Reyes Hostel, Point Reyes National Seashore, north of San Francisco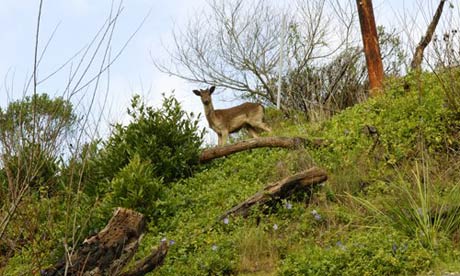 The hostel is crouched in a sheltered valley of the Point Reyes National Seashore and offers the only lodgings available within the boundaries of the park. Although far from luxurious, the laid-back atmosphere and staggering location makes it a top pick for budget oceanfront sleeping in California. Guests congregate around patio picnic tables to eat breakfast while geckos sun themselves on nearby rocks, and there's a gas grill for cook outs in the evening.
On the hike down from the hostel to the vast, often empty expanse of Limantour Beach you'll see foxes, hawks, pelicans, perhaps some bobcats or coyotes, and if you're very fortunate you might see tule elk. A nearby estuary attracts myriad bird species to the beach and, sheltered by the Point Reyes peninsula, the skies and surf turn spectacular colours at sunset. Dorm rooms have 10 beds per room and the hostel has one private room.
• 1390 Limantour Spit Road, +1 415 663-8811, norcalhostels.org/reyes. Dorm rooms $24pp, private room $82- $120
Gold Bluffs Beach Campground, Prairie Creek Redwoods state park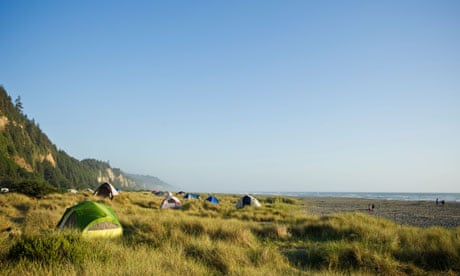 You might find yourself the only camper at this remote campground, right on the sands of Gold Bluffs Beach where gold was apparently once panned – hence the name. Bald eagles circle the 100-foot cliffs behind you and Roosevelt elk regularly venture down to pad over the 10 miles of golden beach that stretches out beyond your tent.
The campground offers barbecues, fire pits, wind shelters, picnic tables, restrooms and solar showers. To get to the park you travel down a narrow, unpaved road until you reach the end of the line, and then there's nothing to do but toast marshmallows and roam the beach.
• Davison Road, Orick, off Highway 101 (Newton Drury Scenic Parkway exit), +1 707-465 7354. Open mid-May to mid-September, $35 per night, no reservations – first come, first serve. Register and pay at the visitor centre
Shelter Cove Beachcomber Inn, Lost Coast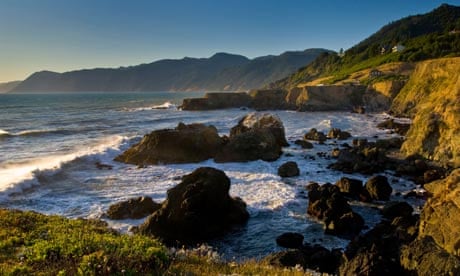 If I were planning to disappear, I'd head for the Lost Coast of California where ethereal black-sand beaches float in the mist like the set of a sci-fi movie and dramatic cliffs appear at the ocean's edge. In the early 20th century, California's highway system decided that the Kings Range and the Sinkyone Wilderness were impossible to build roads or railways through. The area became "lost" and is still mostly wild, although more accessible than it used to be.
Shelter Cove is the only community within a 100-mile stretch of wilderness in northern California and the Beachcomber Inn is a tranquil, romantic escape from the world. It has six "units" (which they'd call "suites" if they were posh). Some of the rooms have kitchens and fireplace stoves, others have private decks or a private barbecue area, but basically they're all simple clean rooms with views of the ocean. There's not much to do in the town but Black Sand Beach, with its wildflowers and driftwood, is a strange and memorable place to lose yourself. • 412 Machi Road, +1 707 986 7551, sojourner2000.com/directory/beachcomber. Rooms from $75-$115
Steep Ravine Campsite Cabins, Mount Tamalpais state park, north of San Francisco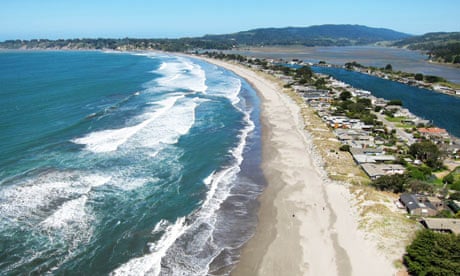 Just north of San Francisco's Golden Gate, perched above Red Rock Beach on the rocky base of Steep Ravine Canyon in Mount Tamalpais, 10 rustic wooden cabins have become so popular that they get booked up seven months in advance. There's a trail from the cabins directly down into the seclusion of Red Rock Beach with its dramatic ever-changing landscape of hot springs, rocks, sand and beached starfish. Falling asleep at night you'll hear waves crashing on the rocks, and yawning your way out of your cabin on a clear day you might see the Farallon Islands in the distance or whale-fins flicking in the surf. Rumour has it that it's sometimes possible to see the snow-capped mountains of Sierra Nevada 150 miles away.
A word to the wise, Red Rock Beach is clothing-optional so don't be surprised to see the odd naked man making sandcastles. If pre-planning fails, there are also seven walk-in tent sites.
• 801 Panoramic Highway, Mill Valley, +1 415 388 2070, parks.ca.gov. Book through reserveamerica.com. At 8am PST sharp on the first of each month, the entire next seven months are opened for reservation and book up fast. Cabins from $75 per night
Manchester Beach KOA, Manchester Beach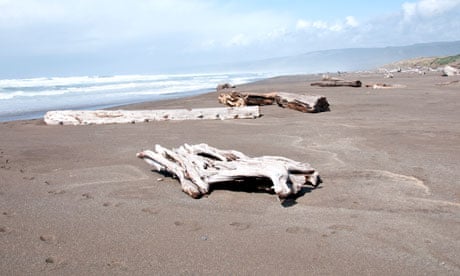 A family-friendly campground where, happily, you don't necessarily have go to all the trouble of camping. The resort's Kamping Kabins are rustic but endearing, with miniature wooden front porches and porch swings. Moments from your front porch swing you'll find glorious Manchester Beach. Strolling along the five-mile stretch of fine grey sand and knobbly driftwood you might see California gray whales migrating along the Mendocino Coast or sea lions slumbering in the surf. The capacious beach is perfect for horseback riding and cries out for elaborate sandcastles.
Salmon, steelhead, perch, smelt and cabazon can be caught near the campground, depending on the season. There are communal barbecues to cook on and picnic tables to eat under the stars. There's even free Wi-Fi.
• 44300 Kinney Road, +1 707 882 2375, manchesterbeachkoa.com. Kamping Kabins from $62-$84, tents from $28-$40
Anna Stothard's novel, Pink Hotel, published by Alma Books, is set around Los Angeles' Venice Beach. Available from the Guardian Bookshop for £5.99