Lennox Head Bed & Breakfast, Lennox Head
A rustic family home-cum-guesthouse in the hugely popular beach location of Lennox Head. The mellow neighbour to the often manic Byron Bay, it is populated by happy surfers, bohemian families and sea changers from Sydney, and has a cluster of excellent coffee spots and restaurants – try Quattro (quattro-restaurant.com), a standout Italian.
The B&B is run by husband and wife team Murray and Carolyn, who spends weekends helping locals detoxify at her Beauty Salon. Murray is full of information about the Northern Rivers area and offers surfing sessions through his company five minutes' down the road.
There are two spacious units that have outdoor areas, one with its own plunge pool. Each has a fully equipped kitchen, where Carolyn brings in breakfast every morning. The lounge rooms are scattered with local and unpretentious art, and the beds are comfortable.
• 15 Sunrise Crescent, +61 2 6687 4493, no website, units from AU$150 (around £99)
Woody Head Camping Area, Iluka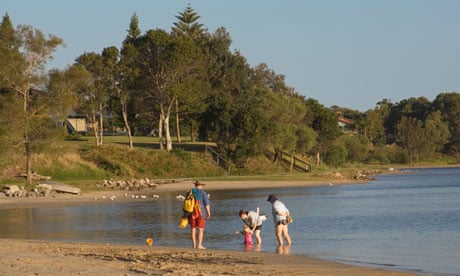 This bushy, off-road camping and cabin site sits on a plateau of Bundjalung national park 10 minutes outside the main town, Iluka. Regulars choose the park and its mellow beach and rock pools over flashier surf and holiday spots a short ferry ride away in Yamba. In summer, families and couples read under trees and barbecue lunch at the picnic tables (with a side of hot chips from the kiosk). Kids float in shallow waters or ferret around for sea life in the rock pools.
Six cabins sleep four-six. Cabin 1 is an original from 1923, with colonial style veranda and dusty, timber interior. It has full kitchen, TV, sunny living room and quiet bedrooms. The rest of the cabins are built in its image. Iluka is a sleepy seaside town encased in rainforest and straddling the Esk river, ideal for canoeing and kayaking. There are several dreamy walking tracks, indigenous and marine history to soak up and a cluster of shops for fresh local seafood or pizza. For a gourmet meal or a morning browsing the boutiques, head over to Yamba.
• +61 2 6646 6134, environment.nsw.gov.au/NationalParks, cabins from £60, tent sites from £18
Arrawarra Beach Holiday Park (aka Spot X), Arrawarra
The arched beach at the end of a rickety but safe walking bridge that juts from the centre of the park is the best spot in Australia for learning to surf – so say the instructors of Mojo Surf, a surf school that runs one of the prettiest caravan parks on the central coast. The headland to the south of the gorgeous bay both capitalises on and provides protection from seasonal winds while neighbouring beaches can be treacherous, especially for those not used to Aussie oceans. There are villas and cabins practically on the beach, pitches for tents and – charmingly – thick-walled tipis. The surf school makes for a buzzy atmosphere but there are plenty of quiet spots and the beach is incredible at sunset. The park feels like an extension of an old-school beach community with kids on bikes, a general store and not much else. Arrawarra is 30 minutes from Coffs Harbour with several beautiful beaches, towns and cliff lookouts along the way.
• 46 Arrawarra Beach Road, +61 2 6649 2753, arrawarrabeachholidaypark.com, double cabins from £66, tipis (warning: they are in high demand) from £24, campsite from £18
Crescent Head Holiday Park, Crescent Head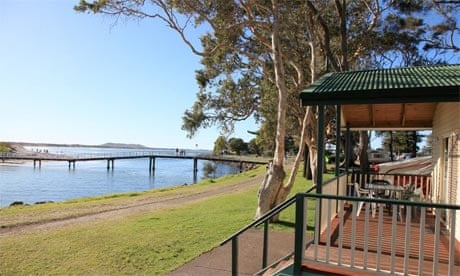 Here is another surfing haven without attitude, 15 minutes off the Pacific Highway and offering a glimpse into Aussie coastal life. There's one main street, with an energetic pub and a welcoming surf club. The park is split into lakeside and seaside accommodation and offers various levels of comfort. The spa bungalows glimpse the ocean from timber verandahs and decked cabins overlook Killick Creek, which provides a kid-friendly stream that carries beach-goers on floats straight into the ocean. In summer, the view from a narrow footbridge is dotted with beach toys and bright bikinis. On the ocean side of town, there is a golf course that runs up to the cliff overlooking a two-mile stretch of the town's most daring surf locations, that in 2008 was designated as one of 11 surfing reserves in Australia in an effort to preserve the country's great wave spots.
• Pacific Street, +61 2 6566 0261, macleayvalleycoastalholidayparks.com.au, cabins from £63 and spa bungalows from £87 (both sleep 5), tent site from £21
White Albatross Holiday Park, Nambucca Heads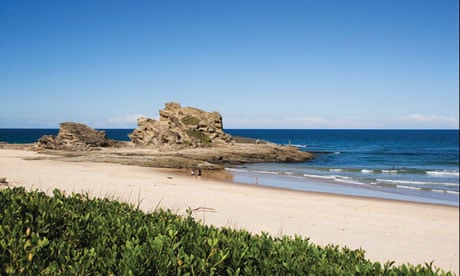 There is plenty of accommodation in this busy coastal town where working families and tourists coexist, but White Albatross is the winner, offering slick digs with the casualness of a holiday park. The park is half a star short of being five-star accommodation and is super family friendly – it has its own mini water park, games room, pool and climbing park. Cabins, studio apartments and villas (the latter are very expensive in high season) stud the park's various waterways: a lagoon for fishing and floating, a surf beach, which varies in conditions, and a river. Then it's just a short walk to the town's many other waterways, rainforest walks and plenty of restaurants, cocktail verandahs and bakeries.
• 52 Wellington Drive, +61 2 6568 6468, whitealbatross.com.au, doubles in studio apartments from £73, small cabins from £50, camping from £24
The Anchor Inn, Gerringong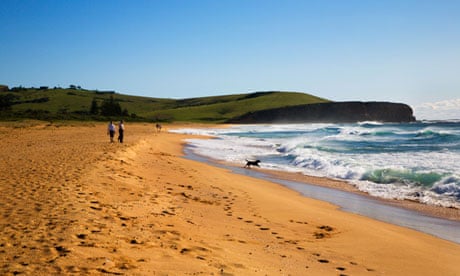 The Anchor Inn provides four-star accommodation with the personal touches of a B&B. A recent refurbishment has brightened up the rooms that line three storeys of wide, art-scattered hallways. Most have balconies (with glimpses of the ocean) and all come with a microwave, flatscreen TVs, and bathrooms. A little over an hour south of Sydney, Gerringong has access to fantastic surf spots (Killalea State Park is home to one of Australia's 11 surf reserves), and incredible coast lines – Seven Mile beach feels otherworldly and there are brilliant cliff views from nearby towns like Thirroul. Ten minutes north is Kiama, which hosts the nation's annual bodyboard championships and is famous for its blowhole. Then, a 25-minute drive inland is Jamberoo, a tiny country spot with an excellent pub, a short drive from the Jamberoo Adventure Park and the stunning Minnamurra Falls.
• 139 Belinda St, +61 2 4234 2222, anchorinn.com.au, doubles from £60, £66 with balconies
Huskisson Bayside Motel, Huskisson, Jervis Bay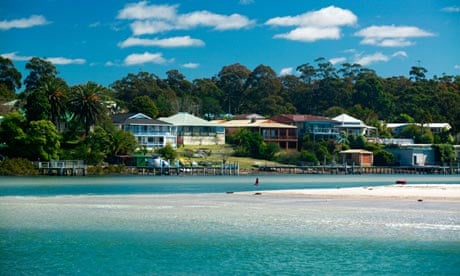 "Huskie" is a happening coastal town, both hip and family friendly and visually dazzling in all seasons. In addition to a serious bakery (Huskisson Bakery on Currambene Street), bookstore (BooBook) and boutiques, some heavy duty watersports take place here – especially surfing and kayaking. Jervis Bay Kayaks runs a hire and teaching business (one of its workers came fifth in the world Sea Kayak titles so there's a lot to learn from her). Bayside is a humble, brick motel with a deluxe air about it – the pool gives it a resort feel, not that you need it as the sparkling beaches are just minutes away and across the road are the kids' climbing frames of White Sands Park. The rooms are comfortable, carpeted and have free Wi-Fi. They are nothing flashy – it's a casual, friendly place close to the town's action.
• Corner of Bowen and Hawke Street, +61 2 4441 5500, huskybayside.com.au, doubles from £86
Pub Hill Farm, Narooma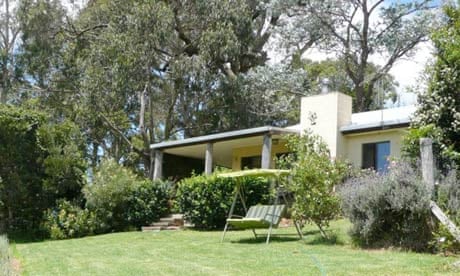 Pub Hill Farm sits atop a cleared hill amid a Eucalypt forest, overlooking a wide, inviting inlet of water. It is a six-mile drive from the centre of Narooma, a popular town studded with great surf beaches, small inlets and clusters of activity, including an old "Kinema" (naroomacinemas.com). Part of the drive is on dirt roads passing through cow and kangaroo territory and beneath the forest canopy. Ian and Micki Thomlinson run a stylish, quiet, dog-friendly retreat, offering four units of varying sizes and a cottage, all with plush en suites individually decorated with English country overtones made raw by the Aussie landscape and elements of the Thomlinsons' many years in Africa. Each unit has an outdoor space, barbecue access and offers plenty of peace, but the place has a communal feel, especially at breakfast time around the dining table. There's some great food to be consumed in Narooma – don't miss Sorisso for Italian or the seafood at Anton's in neighbouring Kianga.
• pubhillfarm.com, +61 2 4476 3177, doubles from £80, Karibu Cottage £113
Beachview Motel, Bermagui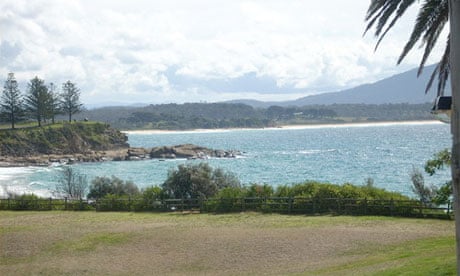 It's not much to look at – the smoky brown brick exterior gives this unashamed motel the feel of an old lady's government house. That's because it sort of is: Pam is short, white haired with big eyes, a mischievous smile and lots of memories. She designed and had the motel built 30 years ago and offers the best beach views in Bermagui from four of her eight cosy, few-frills rooms. The modest balconies also look out at Mount Dromedary, which offers a healthy day-walk and sits practically out in the ocean. Pam runs the motel with fastidious care and the cool, clean rooms – all in muted tones with flatscreen TVs and doily-clothed coffee tables – offer modest comfort. Bermagui, a small, sparsely populated town was where Billy Connolly set his quirky The Man Who Sued God. It lies between all sorts of waterways and coastal walks. Bermagui is also 10 minutes from Central Tilba, a natural heritage town (with ridiculously good fudge and Devonshire Tea).
• 12 Lamont St, +61 2 6493 4155, beachview.thebegavalley.com, doubles from £86, £93 with beach view
Snug Cove B&B, Eden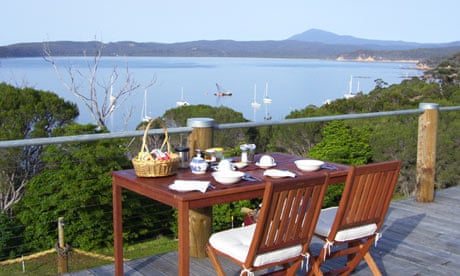 Jennifer and Eric Shuwalow have created luxury, artsy digs that would cost a fortune in Sydney. They built this two-storey B&B in 2009 to look like it was old and humble. It is and it isn't. Each room and en suite is decorated with furniture, art and fittings sourced from garage sales, vintage stores, eBay and their own artistic, travelling life. Vintage cinema posters, folk art and antique furniture inherited from Jennifer's grandparents have found a home in the bedrooms. Then there's the outside: the views from the massive, raw timber decks are winning. They overlook Snug Cove and its busy wharf and across to unpopulated beaches and forestry territory that is studded with historic sites and buildings. In September, October and November, guests sit out with Jennifer's cakes and coffee and watch whales as they come in for breeding season. An afternoon at the Killer Whale Museum is compulsory (as Jennifer will tell you).
• 25 Victoria Terrace, +61 2 6496 3123 snugcove.com.au, singles from £80, doubles from £99